Originally written by Cara Mitchell for WSDOT Blog on March 16, 2023. All information and media courtesy of WSDOT. Original blog can be found HERE.
---
Anyone who works or lives on the Olympic and Kitsap peninsulas knows just how vital the State Route 104 Hood Canal Bridge is to communities in Jefferson, Clallam, Mason, and Kitsap counties. No one likes it when there are unplanned closures of the bridge for high winds, collisions, or emergency repairs.
Yet these unplanned events do cause the bridge to close, forcing nearby communities to be extra resilient. We saw it happen twice in February. The salty, marine environment the bridge sits in forces the structure to have constant maintenance and construction. The bridge is regularly under pressure from wind, waves, and fast-moving tides. Many key elements of the of the bridge are custom made. This requires lots of time to fabricate and install replacement parts. There is no other bridge like it.
A couple years ago, we began preparing for some larger repairs to the center lock system on the bridge that is critical to keeping it operational for years to come. The center lock system keeps the two halves of the bridge closed so vehicles, bikes and pedestrians can get across Hood Canal. If that system fails, we won't be able to keep the two halves of the bridge together so people can get across the water.
Due to the complexity of the work, the repair requires four weekend closures of the bridge. The video below has another look at the work planned for this summer and why keeping it in a state of good repair is vital for everyone.
Work was initially scheduled for 2021 but like a lot of other projects, delays occurred due to the Covid 19 pandemic. We tried again in 2022, and again the work was pushed to 2023 because of supply chain issues.
So, here we are in 2023.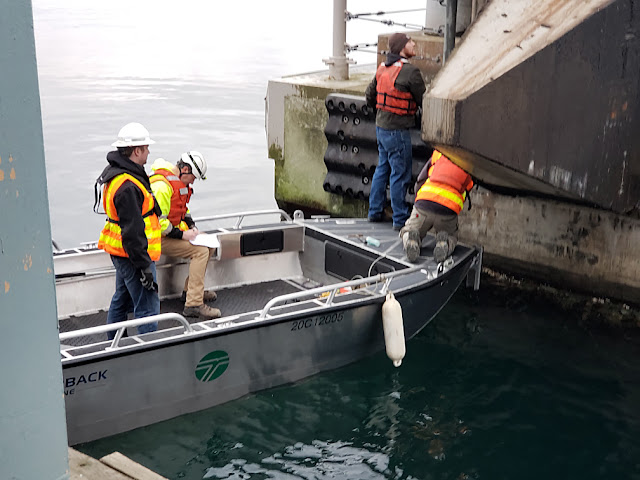 Getting the word out. …again
In January, we began spreading the word to Olympic Peninsula communities for this and other construction projects that are lining up this year. We met with the Olympic Peninsula Tourism Commission, presented at county commission meetings, met with local city councils, met with local reporters, and have received numerous letters from concerned business owners, residents and people who are planning summer vacations.
Our conversations with our local partners have been meaningful. This community feedback is helping us refine the work schedule with the contractor. We have not locked in work dates yet, but we will soon. We are evaluating the contractor's schedule looking for opportunities for opening the bridge to travelers occasionally during the weekend closures. There are a lot of variables that come into play with doing that. Here is what we know:
The bridge is a critical connection for more than 18,000 travelers who use it daily and is a lifeline for the people and businesses of the Olympic Peninsula.
The closures are being planned sometime from July to September. Key factors playing into this are the needs of travelers, emergency responders, our contractor, construction material availability, and tracking festivals that bring needed tourism to the peninsula.
The alternate route is a long one as it uses SR 3 and US 101 to get to the Olympic Peninsula. Travelers will see additional delays on this route from other projects that were preplanned and cannot be delayed.
Alternate ferry service is not planned. While our ferries division is incrementally adding service to its regular runs, it still faces crewing and vessel shortages.
The weather will be the ultimate deciding factor for if a weekend closure is going to proceed or not. This work requires optimal weather, including calm tides and winds. During these repairs, workers are suspended from the edge of the bridge with the roadway open to repair the pyramids. This means it is not possible to perform this work with waves crashing against the bridge.
What we don't want to see is travelers lining up on US 101, SR 104 or SR 3 waiting for the bridge to open. This will affect local communities and property owners being able to get out of their driveways.
There is no good time to perform this repair. No matter what weekends we choose, someone is going to be inconvenienced. There is no weekend without a big summer event. Our work is often planned out months in advance and often has to be shifted due to weather concerns or delivery delays. The bottom line is, the repairs on this bridge have to happen. One thing we all agree on is keeping it operational is vital for everyone.
We are coordinating with our partners to lessen affects where we can. But we need everyone to work together during this construction season. Delaying trips, going early and staying late helps everyone else who can't do so. Allow for extra time and stay informed.
Please visit our online open house for more information about the 2023 construction season and to sign up for updates.
---
Originally written by Cara Mitchell for WSDOT Blog on March 16, 2023. All information and media courtesy of WSDOT. Original blog can be found HERE.