This story was created in partnership with Visit USA Parks. Photos by Erika Land.
---
Summer is undoubtedly a popular time to travel. However, when it comes to planning your trip to the Olympic Peninsula, Washington, it is time to change it up. Fall is the perfect time to visit because the crowds have fled, the colors are breathtaking, outdoor activities are at their best and the culinary scene is amazing. Discover the perfect fall vacation on the Olympic Peninsula.
DAY #1
Along Hood Canal
Get an early start, hop in the car and drive onto the ferry in downtown Seattle heading towards Bainbridge Island. Once you arrive head southwest towards Belfair and Highway 106 as it follows along the shores of Hood Canal, eventually merging into Highway 101. Your senses will start to be stimulated as you drive along the water through the tall, colorful trees. There are many places along the canal to stretch your legs, grab a snack or hike in to some waterfalls. The Hama Hama Oyster Saloon is a must-do when you are driving along the canal. It is perfectly located right on the water so that you can taste true local oysters, while enjoying your favorite drink in a great atmosphere!
Heading to Northeastern Olympic Peninsula
As you drive north towards Port Townsend another must-do is to stop in Chimacum. Here you will find Finnriver Farm and Cidery. The 80-acre orchard farm will fuel your taste buds with delicious hard cider and local food. What compliments fall better than locally brewed cider? You also have the option to take a tour of the beautiful farm or stick around for some live music.
Port Townsend & Fort Worden State Park
Port Townsend is Washington's Victorian seaport and arts community. If you time your vacation right, you might make it for one of the many festivals that take place in this vibrant town. If not, there are still plenty of activities for everyone. Even if that means simply walking through the charming main street of this town.
Fort Worden State Park is just a short drive north. Here you can find campgrounds, vacation rentals, two miles of beautiful shoreline, and the historic Point Wilson Lighthouse. This part of the peninsula has a unique personality that you will want to experience.
Onward to Sequim
Sequim is another small town of the Olympic Peninsula that is saturated with activities! Railroad Bridge Park is located near this area where you can discover the Dungeness River Audubon Center.
DAY #2
Wake up and smell the Lavender! Sequim is the Lavender Capital of the North America and provides unique, organic beauty. Even though fall is the end of the season for these farms, you can still drop in for a visit to look around at the array of purple and get the chance to purchase some of the lavender products around town. Another enjoyable activity in Sequim is to walk along the Dungeness Spit. At 5.5 miles, it is the longest natural sand spit in the nation.
Port Angeles & Hurricane Ridge – Where the Mountains Meet the Sea
Port Angeles is a unique port town for its underground history, scattered artistic gems, and Native American Heritage. It is also a gateway to Olympic National Park. You will truly understand the meaning of "where the mountains meet the sea" once you drive from sea level to 5,000 feet up to Hurricane Ridge in the Olympic Mountain Range. Here you can take in the views of the breathtaking alpine valleys and peaks of Olympic National Park.
West on Highway 101
This part of the highway is full of some easily accessible natural beauties that you can't miss. Madison Falls is right off the highway and is a very short walk to view a beautiful waterfall. Lake Crescent is another quick stop off the highway. If you have time you can hike to Marymere Falls or take a kayak out on the crystal, turquoise lake.
Sol Duc Falls & Hot Springs
A quick detour off Highway 101 and further into Olympic National Park, you will discover a hiking trail to Sol Duc Falls. You will truly feel tiny as you walk through the magnificently enormous trees. Afterwards you can reward your hiking legs with a relaxing dip in Sol Duc Hot Springs.
Note: Visit OlympicNationalParks.com for more information. Sol Duc Hot Springs Resort is open until October 31.
Continue Towards Forks
This small town is located on the west side of the Olympic Peninsula on the edge of Olympic National Park's temperate rain forests. The Olympic mountains are on one side and the Pacific Ocean beaches are on the other making it a great spot for exploration. If you are a Twilight Saga fan this is where the novels are based and where a replica of Bella's truck resides. You can also explore the Forks Timber Museum to learn more about the areas logging industry.
Lodging in Forks
Forks is the perfect place to reset, relax and get away from it all. There are an abundance of places to stay near Forks hidden between the trees of the rain forest. One of the best places is the Quillayute River Resort. Your front door opens up to the Quillayute River, while the rain forest surrounds the rest of the property. You will find yourself in pure serenity.
DAY #3
A Day of Beach Hopping
It is time to start exploring the Pacific Coast beaches. Your day can begin with a foggy morning at Rialto Beach. It is just a few miles from Quillayute River Resort and it will take your breath away. It is not very often we get to enjoy the fresh air of the ocean and the rain forest mixed together into one.
Next, head towards the small community of La Push on the Quileute Tribal Reservation and the three beaches that it is known for. First Beach is the only one that can be accessed by vehicle. Second and Third Beaches can be accessed by walking through forested trails that open up to the ocean.
Quinault Rain Forest & Lake Quinault
After a day filled with Pacific beaches it's time to trade in salt water for fresh water. Quinault is the perfect spot to enjoy nature at your leisure. You can take a kayak or boat out on the lake, rent a bike, go fishing or take a hike through the colorful, enchanted forest. These hikes are saturated with stunning waterfalls, moss covered trees and flowing rivers.
Lake Quinault Lodge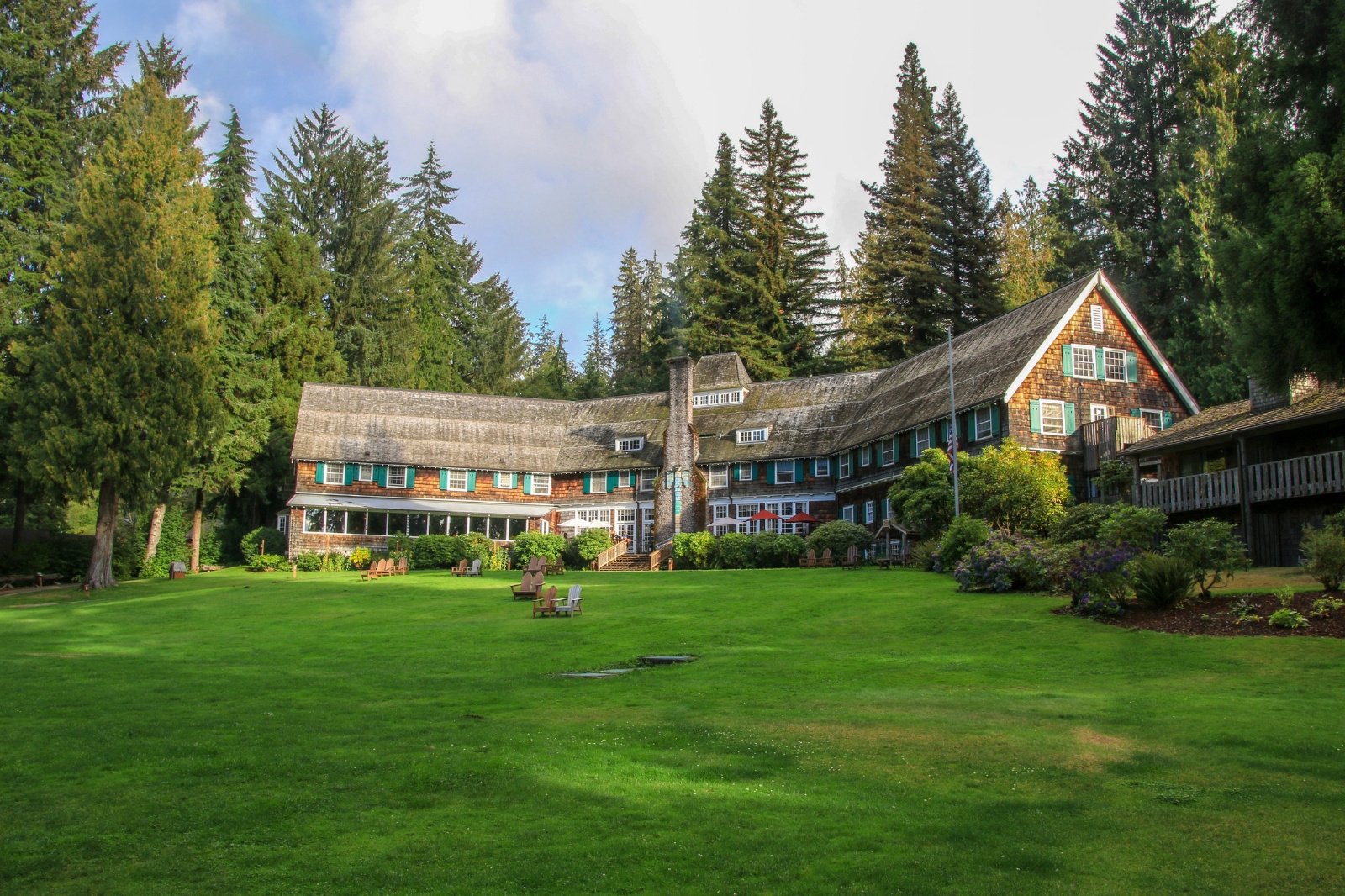 Lake Quinault Lodge is a destination to sharpie onto your bucket list. Open year round, this rustic, cozy lodge is surrounded by the trees of the Quinault Rain Forest with views overlooking Lake Quinault. If there is one place that can use its beauty to secure pure relaxation, then this is it. Stress doesn't exist next to the calm water, fairy-tale forest and blazing sunset.
The End of the Perfect Fall Vacation on the Olympic Peninsula
The Olympic Peninsula region is beautiful and breathtaking. It is the perfect example of rain forest depth, striking mountain ranges, and dramatic beaches. Visiting in the fall is the best way to ensure that the crowds don't take away from the serenity and beauty of this much-loved destination.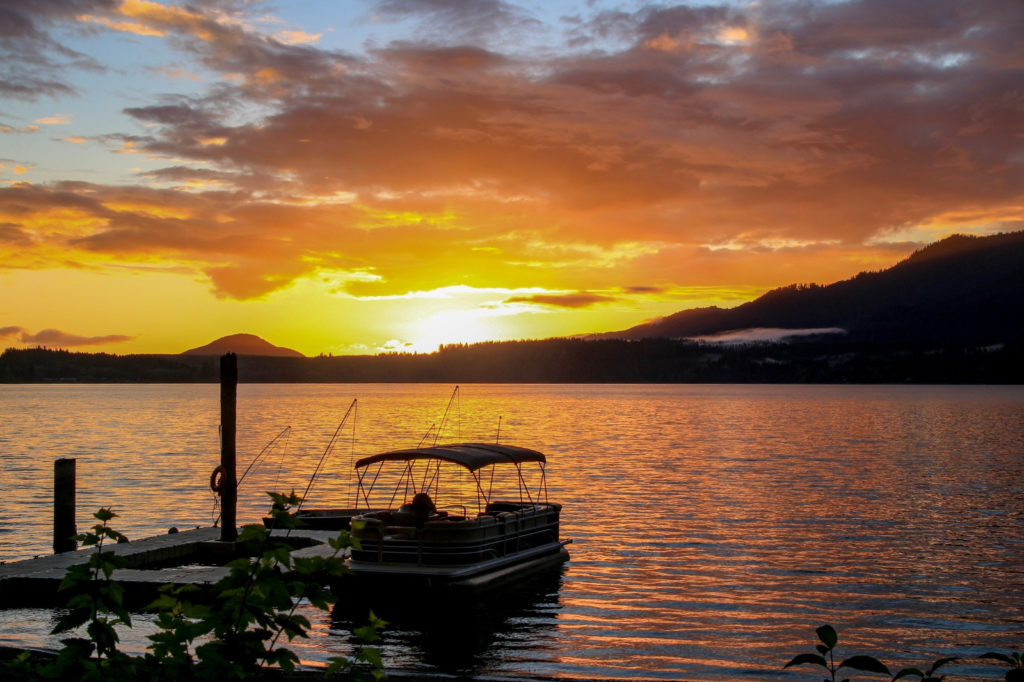 ---
This story was created in partnership with Visit USA Parks. Photos by Erika Land.