Find out more about North Olympic Peninsula 2023 Construction & Expected Delays on the WA State Department of Transportation Website.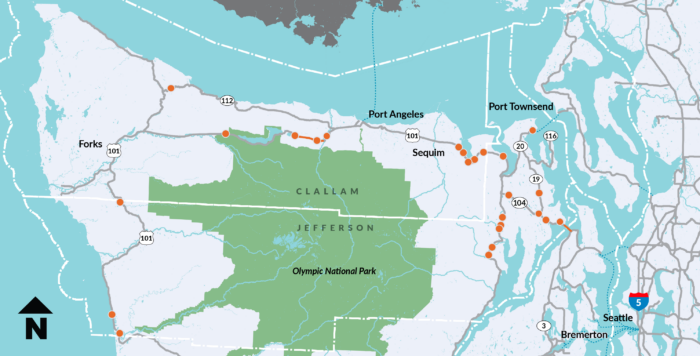 HOT SPOTS
Click the links below to read more about each project.
Hurricane Ridge – Olympic National Park
Hwy 101 – North Olympic Peninsula
Port Townsend – SR20 Kearney Roundabout
---
WA State Ferries
Plan accordingly. The ferries can be busy in the summer, especially on weekends and holidays. LEARN MORE
Looking for an alternative? Here are some fun alternate routes to consider, each of which offers great things to see and do along the way (for planning purposes only; Google maps do not show real-time traffic):
Northern Route via Whidbey Island
Fjord Route along the Hood Canal
---
Hood Canal Bridge (SR 104)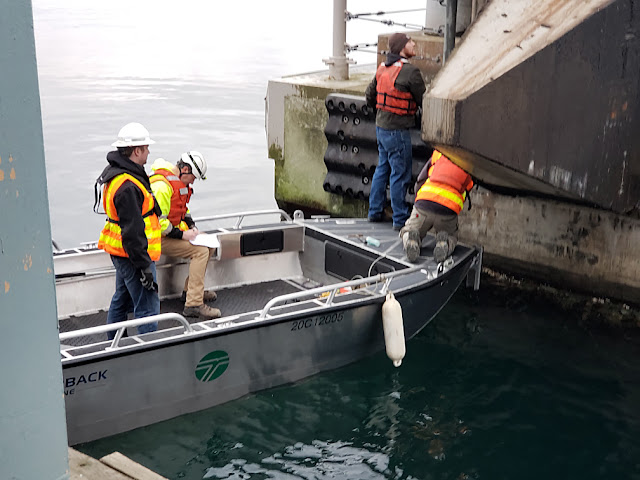 Crews will upgrade and replace key elements of the SR 104 Hood Canal Bridge. The construction bolsters systems that guide the bridge together and keep both halves of the bridge connected.
Travelers can expect scheduled nightly bridge closures in May and June, with additional nighttime closures planned for September. CLICK HERE for a specific planned schedule.
The closures require good weather and calm tides, so they may be rescheduled. All closures are announced in advance. CLICK HERE for the latest Hood Canal Bridge open / closed status.
---
Hurricane Ridge (Olympic National Park)
Hurricane Ridge is reopened but with limited access. Due to the destruction of the Day Lodge in May, there are limited services, including temporary restroom facilities. Daily vehicle access is capped at 430 vehicles total per day, with a parking area capacity of 175 vehicles at a time. Plan to go early. LEARN MORE
Through October 9, scheduled shuttle bus service between Port Angeles and Hurricane Ridge is available with Clallam Transit.
NOTE: There are two active fires in the area and circumstances can change quickly. Please check for the latest updates before you go: either on the National Park website or by calling (360) 565-3131. Obstruction Point Road is closed due to active fire.
---
Hwy 101 – North Olympic Peninsula
Ongoing construction projects will be taking place around the North Olympic Peninsula for the next two years. LEARN MORE
---
Port Townsend – SR20 Kearney Roundabout
This project will take the existing intersection on State Route 20 at Kearney Street in Port Townsend and convert it into a single-lane roundabout. Traffic will be detoured around the project. This project begins the week of September 11 and is expected to last eight weeks.
WSDOT resources for safe travel
For real-time conditions & data and advanced notices for work that is planned:
WSDOT real-time travel data webpage