Considered Washington state's premiere shore diving destination, Salt Creek Recreation area offers a breathtaking underwater park replete with sea urchins, anemones, sea cucumbers and wolf eels. The underwater kelp forest reaches its peak in the summer and fall. Opt from four possible entry points. The staircase at campsite #63 offers the easiest access.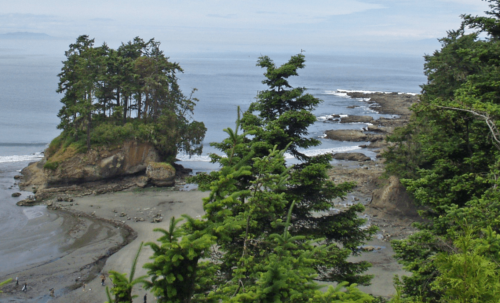 For those of you who stay above water, you can entertain yourself for hours or days here. At low tide, there is some of the best tidepooling around. Immerse yourself in the salt water colonies populated by a myriad of critters in their rocky pools.Kayaking from the beach is an easy launch and there are plenty of coves and rocks to explore. Wildlife is good in this area, especially marine mammals. Salt Creek Rec Area is on the Whale Trail, so it's possible to see their spouts off the cliffs. Just enjoying the beach, strolling or finding that perfect spot out of the wind to soak up the sun in a sheltered cove. Camping and RV sites are available. It's wise to make reservations as these picturesque sites are always in high demand. Hike to a waterfall, explore the WWII bunkers and take some photos. It feels like a world away from the hustle and bustle of highways and cities.
Local lore:  Freshwater Bay is salt water, but the early explorers knew that there was sweet water available from the Elwha River. Consequently, the protected waters got to be known as Freshwater Bay. And, the stream waters of Salt Creek, that should have provided sweet water, were named Salt Creek because of the brackish, salty taste created by the tide moving the salt water inland. That's the legend, at least.